ATTENTION
!
If you lived, worked, or served at Camp Lejeune, you may be entitled to Significant Compensation
See if You Qualify for Compensation
Get a FREE Case Evalution
"The water at Camp Lejeune was a hidden hazard, and it is only years later that we know how dangerous it was."
Reported by: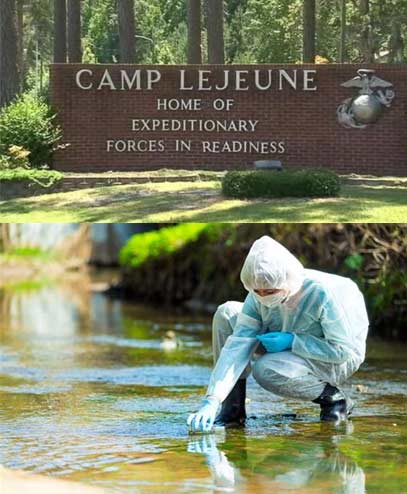 Toxic Water at Camp Lejeune Is Responsible For:
Camp Lejeune water contamination sources included leaking underground water storage tanks and waste disposal sites. The contaminated wells were mostly closed by February of 1985; however, those who had been exposed have faced cancer and other serious health problems related to the chemicals. Health conditions may include:
→ Bladder cancer
→ Breast cancer
→ Cardiac birth defects
→ Esophageal cancer
→ Female infertility
→ Hepatic steatosis
→ Kidney cancer
→ Leukemia
→ Liver cancer
→ Lung cancer
→ MDS(Myelodysplastic syndromes)
→ Miscarriage
→ Multiple myeloma
→ Neurobehavioral effects
→ Non-Hodgkin's lymphoma
→ Parkinson's disease
→ Renal toxicity
→ Scleroderma
How Did Camp Lejeune Water Get Contaminated?
For more than 30 years, service members and their families stationed at a military base in North Carolina unknowingly drank and bathed in water contaminated with hazardous chemicals. In the 1980s, Camp Lejeune in Jacksonville, NC, tested its water supply for environmental toxins. The base found chemicals like trichloroethylene, tetrachloroethylene, benzene, and vinyl chloride. Researchers say these toxins increase the risk of various cancers, congenital disabilities, and Parkinson's disease. More than a million people lived at Camp Lejeune during the contamination period.
Camp Lejeune Justice Act of 2022
Jan 25th, 2022
The Camp Lejeune Justice Act of 2022 is a bipartisan bill intended to ensure that individuals – veterans, their family members or other individuals living or working at the base between 1953 and 1987 – who were harmed by water contamination at Camp Lejeune receive fair compensation. Many of these individuals have had their claims inappropriately denied or delayed, resulting in additional harm.
The Bill is making its way through Congress as part of the Honoring Our PACT Act of 2022, which passed the U.S. House of Representatives on March 4, 2022. The Act will permit people who worked, lived, or were exposed in-utero, to contaminated water at Camp Lejeune between 1953 and 1987, to file a claim in U.S. federal court.
People or loved ones of those who lived, worked, or were stationed at Camp Lejeune who experienced a water toxicity-related illness may be eligible for compensation.
Camp Lejeune Justice Act Passes, Enabling Reparations for Military, Families and Civilian Who Lived and Worked on Base
June 16th, 2022
Today, the United States Senate voted to pass the Camp Lejeune Justice Act, a federal mandate with bipartisan support to provide former residents of Marine Corps Base Camp Lejeune, military, civilians and their families the right to seek reparations from the U.S. government. The bill is expected to be signed into law by President Biden, under the Honoring Our PACT Act, as soon as next week.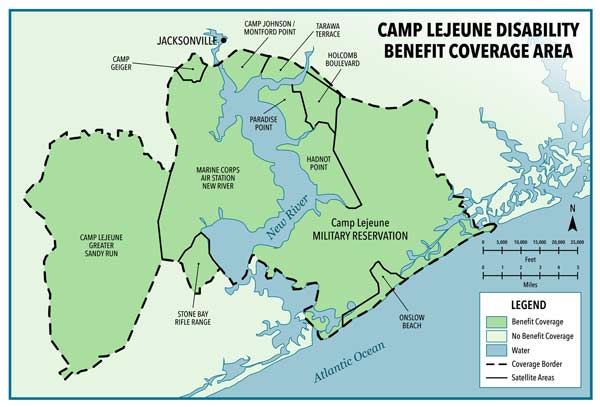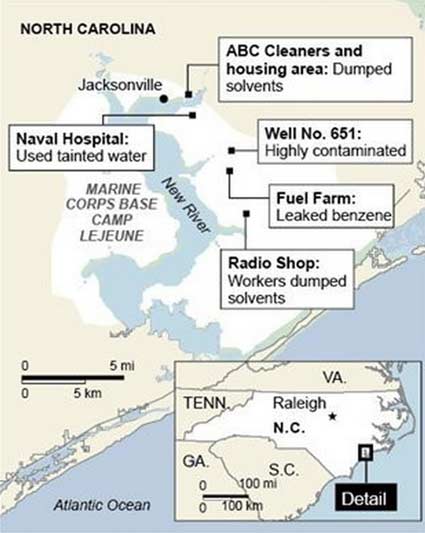 Routine water testing in 1982 found that drinking water sources at Camp Lejeune were contaminated.
Did you live, work, or serve at Camp Lejeune? If so, see how much your claim could be worth:
What's My Claim Worth?